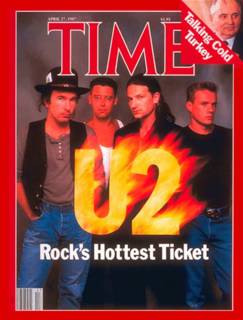 Over at Jeremy's Pad, a bunch of us have decided to listen to all of U2's studio albums in anticipation of their upcoming release, How to Dismantle an Atomic Bomb. I have to say that I have really enjoyed going back and listening to all of their old work.

The Joshua Tree is in my humble opinion, the greatest album ever made. It catapulted U2 to Rock God status. This album brought back so many fond memories as well. It is the ultimate road trip song, that made it's way into so many camping trip videos in my late teens and early twenties. My friends and I had so many adventures with this album playing in the background. We blasted it from houseboats on Lake Havasu, along dirt roads on Ortega Highway, and everywhere else from here to Utah.

If I could only own one album for the rest of my life, The Joshua Tree would be it. Time magazine put them on the cover hailing them as Rock's Hottest Ticket. It's fitting that the first CD I ever bought, was this album. I have probably heard it more than any other album ever. This disc is scratched to hell with what it has been put through, but still holding on strong. It begins with the holy trinity of U2 songs. I would argue that Where The Streets Have No Name, I Still Haven't Found What I'm Looking For, and With or Without You have to be the best 3 tracks of any album ever produced. I still get goosebumps when I throw this CD in and WTSHNN revs up. I love the gospel sound of ISHFWILF. With or Without You is right up there at the top of my list of favorite U2 songs. It is often #1 depending on what U2 mood I am in. Bullet The Blue Sky rocks in concert. Running to Stand Still gives me chills every time I hear it. I never knew what is was about until I saw Bono acting it out in concert on October 30, 1992 at Dodger's Stadium. I love Red Hill Mining Town! Bono sings this song with so much passion. I love the rest of the songs too. They are so unique.