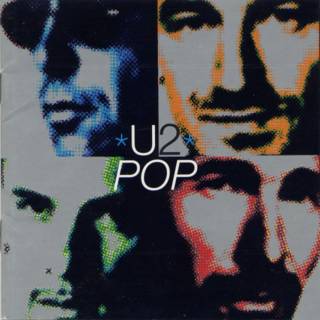 In March of 1997, the wait was finally over. We had a new U2 album. A bunch of us from Biola made the trek over to Tower Records in Buena Park to buy the album at midnight. This was my first of many midnight runs to Tower. I think I might still have my receipt that said I bought the album at 12:01 am. Like with Zooropa, Pop was a lot different than U2's other stuff. I personally love the album though. I did get a preview of the album on this new technology called an MP3 in Kenny's dormroom, so it wasn't quite as shocking as Zooropa.
With this album, we got another world tour. While not as great as Outside Broadcast, the Popmart Tour was still amazing. We saw the second show on the tour in San Diego, and you could tell that the boys rushed into the tour too quickly. The album had only been out for a month and the sets were far from tight. It was still great to see the show before almost everyone else in the world though. Rage Against The Machine opened for them and they were awesome.
The album itself has a lot of great songs and a couple of songs that I personally can't listen to. It starts off with Discotheque. When I first heard this song on the radio, I freaked out. I thought U2 had gone techno. Thankfully, it wasn't like this on the whole album. The song is fun and the video was hilarious. You can't got wrong imitating The Village People. The next track is one of my favorites on the album. I have added Do You Feel Loved to quite a few mixed CDs. MOFO rocks. I believe this song is about Bono's mother or father as well and it was rumored that they would not perform it in concert. Thankfully, that was not the case. If God Will Send His Angels is Dragon's favorite song. I kind of got sick of it once it made it to his single song playlist on Winamp. Staring At The Sun is pretty classic U2. Last Night On Earth had a crazy video. I remember hearing the news about how parts of Kansas City were shut down during the filming of it. Gone is another great track. I can't stand Miami. The Playboy Mansion feels like you should be watching a 1970's porno. I don't like to listen to If You Wear That Velvet Dress either. Please is one of the best songs on this CD and had a couple great singles from it, especially the Popheart EP. Ask Craig about Wake Up Dead Man. This song is classic.